This was supposed to be a celebration for England winning the World Cup,
instead it is a homage to the boys who were cheated again.
For this you will need
2x 200g Chocolate @ 48p each (98p)
1x Mini Football @ 99p (For the mold,Any Pattern Will do)
1x Packet of Mini Footballs @ 30p (For Tasting and comparison)
Total cost £2.27
Right first up you need to take your ball and cut a hole not to big, then
break up two bars of the chocolate into a bowl, now for the melting I opted
for the more modern method of nuking it for a minute (Note the wearing of a
PIMP THAT SNACK T-shirt)
Next beat it in the bowl to make sure sure all of that chocolate is melted
(Note the T-shirt), now you need to pour the melted chocolate into your ball
first problem was what to put the ball in to stop it rolling away, the
solution a measuring cup (God bless the Americans and there daft way of
measuring stuff). Second problem was the funnel was to small, discard this
and use a bigger one.
That's better. Pour it all in until full, now put it in the freezer for a
couple of hours (Note the T-Shirt again).
Once set take it out and cut the ball off, this was trimmed and tidied up a
bit to give a ball shape, to make it all the more I wrapped it in some
football pattern paper.
This involved a search on the Net for the correct patten (God bless Google),
the pattern was then edited and coloured using Windows paint and finally
Printed direct onto Tin foil then left overnight to dry.
Only thing left to do is take the comparison shot and a cut section just to
prove this is solid chocolate.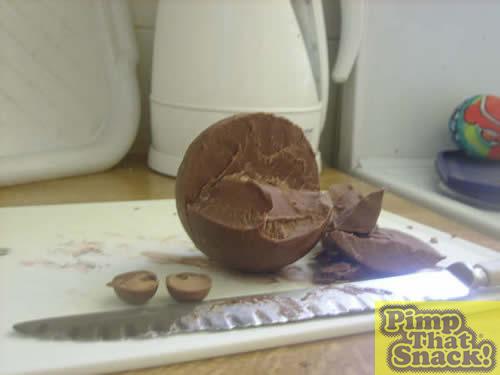 Mini Football weighs in at 5g and measures 6.5 cm round
Midi Football weighs in at 335g and measures 25cm round
Comments