Estimated cost: £9.88
Time taken: 28 hours (includes sleeping time 8 hours)
Ingredients
500g butter
600g Caster sugar
4 free range eggs
550g plain flour
200g cocoa
1kg icing sugar
100g dark chocolate
1 pint milk
greaseproof paper for paper case
Cleaning products and other specialist equipment- if you run into problems later on (see below)
1-2 kitchen rolls
2 kitchen super absorbent yellow cellulose sponge cloths
1 bucket of hot soapy water
2 flat spatula thingies
A child to lick chocolate icing off work surfaces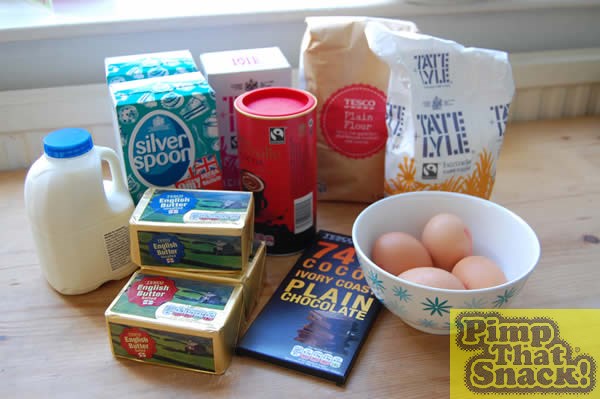 Having tried making a giant pink fancy a few years back, I decided upon attempting the least popular of the Mr Kipling's trio- the chocolate one. I think its low popularity is probably due to the poor quality chocolatey taste and a slightly insipid pale chocolate hue, compared to his vibrant pink or flavoursome lemon yellow sisters.
Rather than matching it internally with genoise sponge and a buttercream dome, I decided upon a rich chocolate sponge. I quickly decided a 15cm buttercream dome would be far too difficult to achieve without massive seepage issues and decided instead to use a balti dish which coincidently was almost a perfect dome proportion. Square tin: 20cm, Balti tin:15cm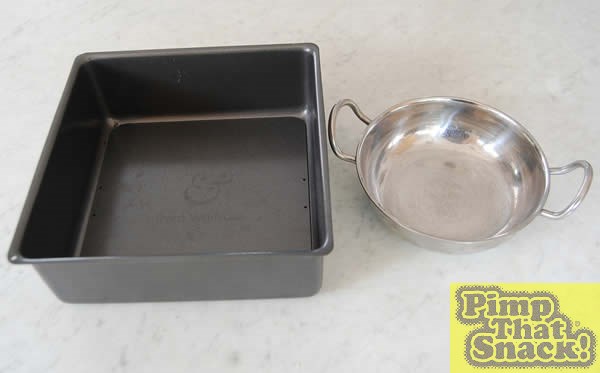 10.7.15: 10.35am Instead of attempting one very high cake, I thought it far safer to cook four square moist chocolate sponge cakes and a balti cake. That way ensuring maximum cooking control. Usual stuff in it- creamed butter and sugar, add eggs, fold in flour and cocoa- viola!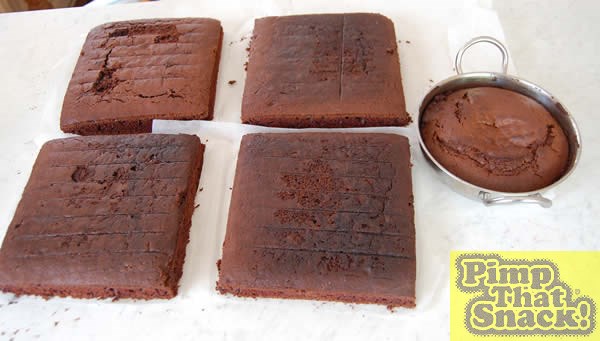 10.7.15: 13.22pm I made some chocolate buttercream- Icing sugar/butter/cocoa powder and sandwiched all layers together and cemented the dome on top. Decided sides needed smoothing with some extra buttercream. So far so good…
11.7.15: 00.12am I then made two lots of chocolate fondant icing, basically icing sugar/cocoa and water. Things started getting messy, out of control. Chocolate icing pouring down the sides of kitchen units, smearing over my hands, face, the cat, a child etc. I started to panic.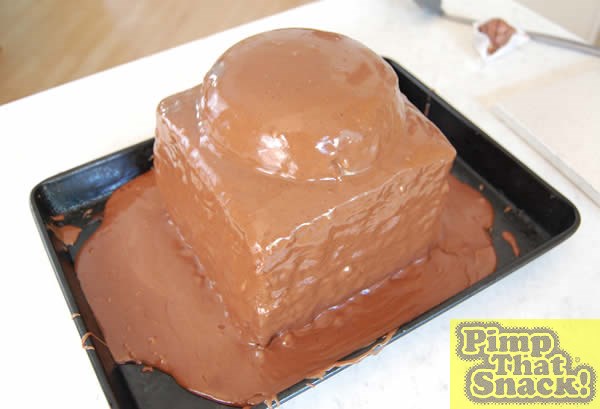 11.7.15: 2.45pm But I pulled it back from the brink of disaster, took some deep breaths and concentrated on finishing the job in hand. Most difficult part: spatulating cake onto cake board with 2 spatulas (and on my own). Concertinad, concetinaered,concerteenared/ folded greaseproof paper to mimic its dainty paper case, ran into some scale issues.
Once some dark chocolate was piped in the relevant areas ( at the relevant widths pro rata) I had managed to come out the other side and averted fondant disaster.
Here finished photo with its mini me.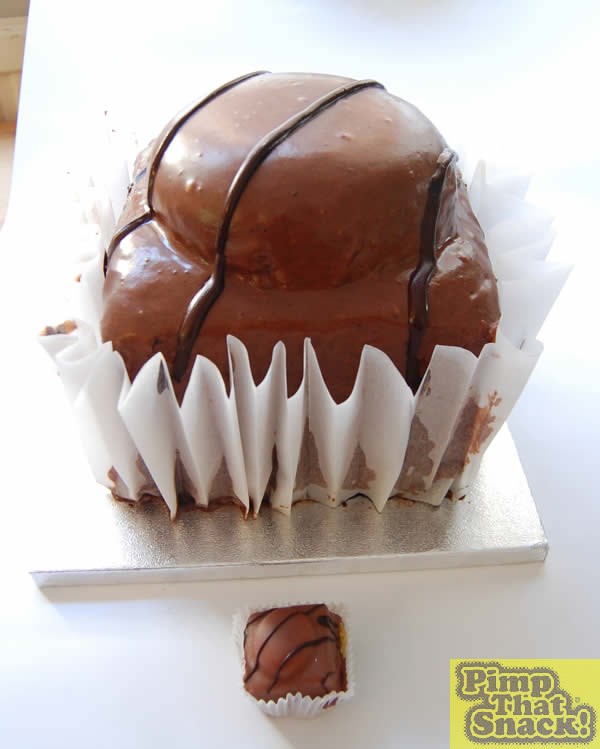 Comments