Just in time for our Canada Day BBQ
After browsing this site for a while, we noticed that there weren't very many Canadian entries. With Canada Day coming up, we thought what a better time to start a pimp. We wanted to submit something distinctly Canadian, so after a bit of thought, we came up with a GIANT maple cookie. What says Canadian more than Maple leafs, and Maple syrup…..well aside from beer……We'll see if we can't slip a bit of that in there somewhere too!
Total cost: About $10 Canadian – includes $2 worth of original maple crèmes – for quality control purposes of course!
Ingredients
Cookie
1cup Margarine
3/4cup Brown Sugar
1/2cup Maple Syrup
2 Eggs
2tsp Cream of Tartar
1tsp Baking Soda
3/4ts Salt
Icing (not shown)
4cup Icing Sugar
1tbsp Butter
1/8tsp salt
1/2tsp vanilla
1/2cup Brown Sugar
1/2cup Maple Syrup
Cookie
1 – Carefully blend all the ingredients to a large bowl, or as I did, just chuck them all in and mix.
2 – Once the ingredients are mixed, shape into a ball <doughball.jpg>. Next add a silly face…..This part is crucial, or the cookie will not turn out. (cover dough with plastic wrap, and refrigerate 1hr)
3 – Next we separated the dough in two, and then rolled out each half until they fit our highly technical super duper accurate, one of a kind precision template.
4 – Next, with the precision of a highly trained surgeon… well, at least a marginally good one. We cut along our precision template to get the general shape of the cookie.
5 – The next step is to create the veins for the leaf….. To make the veins, you need a highly technical vein making machine, made by small elves living in the barren wastes of the Canadian north. Since we had neither the time to travel and get one, nor the amount of beer needed to purchase one, we fell back to plan B. Rolling them out by hand.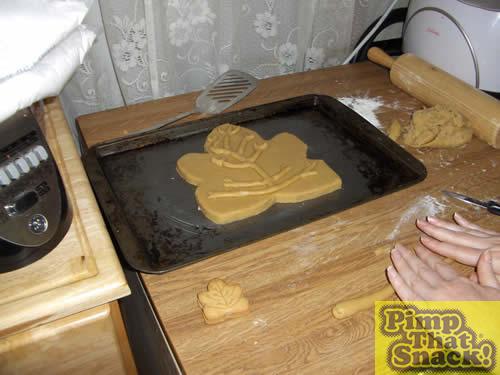 6 – Cook your newly made cookie in an oven heated to 350 degrees until you receive a sign from the gods that it is done, or until it's nicely browned (about 20-25min). Repeat for the other side of the cookie.
Icing
1 – Beat all ingredients.
2 – Once the ingredients are sufficiently subdued, add them to a bowl, and mix until nice and firm.
3 – Spread icing on the back end of one of the cookies (hee hee… Back End). Next sandwich the two cookies together, et voila! Or pretty good, eh?
4 – Not quite time to eat just yet!<not yet.jpg>
Here you can see a cross section of the original cookie vs. our Pimped out one. All ready to be eaten. As you can see in the background we're all set for our celebration!
Our Pimped out cookie is 4 times taller, longer and thicker. Its size is equivalent to 96 regular cookies!
Our version has approximately 7200 calories, and 288grams of fat!
Does Pimp that snack help out with dental bills???
(Answer: No)
Comments