Mssrs Lefley's Bake Well-Big Slab
Made by the exceedingly experienced Pimplings building contractors; Project Manager Sue, Architect Tom, Brick Layer Nick and General Labourer Lucas.
Materials:
1.7 Kilos Soft Margarine
1.9 Kilos Castor Sugar
1.7 Kilos Self-Raising Flour
340g Ground Almonds
30 Eggs
6 capfuls Almond Essence
1.3 Kilos Plain Flour
650 g Margarine
3 jars Raspberry Jam
2 Kilos Icing Sugar
4 tbsps Cocoa Powder
1 Box Exceedingly Small Mr Kipling's Bakewell Slices
Total Cost: £19.90!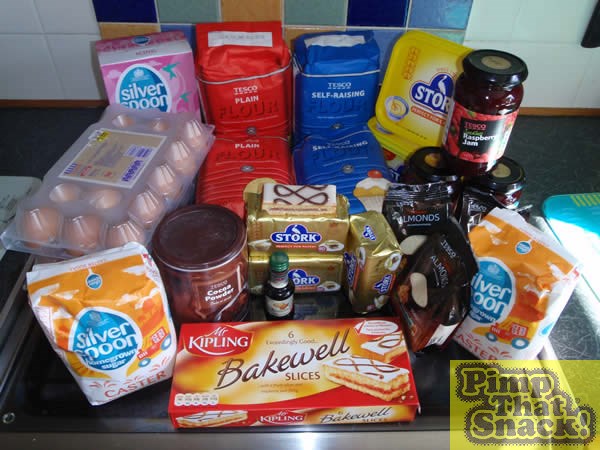 This is our 5th summer in a row of pimping and taking as inspiration our Dad laying slabs for a patio, a forthcoming weekend away in the Peak District and of course our love of anything almond-flavoured, of course we came up with an exceedingly good idea to 'build' a giant slab of our own!
Project 1: Foundations
Using a basic recipe for sweetened short-crust pastry we mixed up 3 batches in our cement-mixer i.e. bowl and rolled each batch to fit an enormous baking dish measuring 30cm x 34 cm. We then baked these blind, one at a time, until we had 3 foundation breeze blocks of pastry.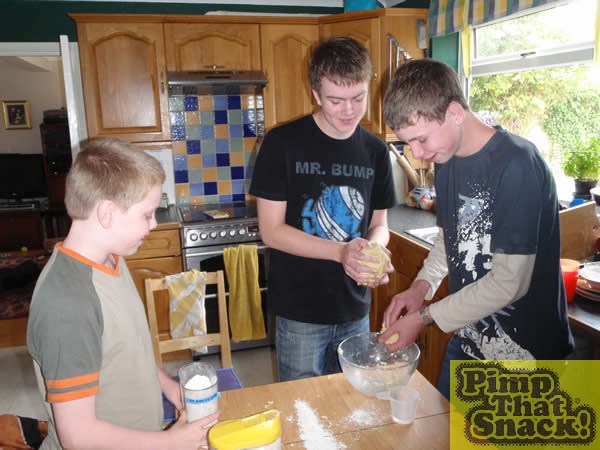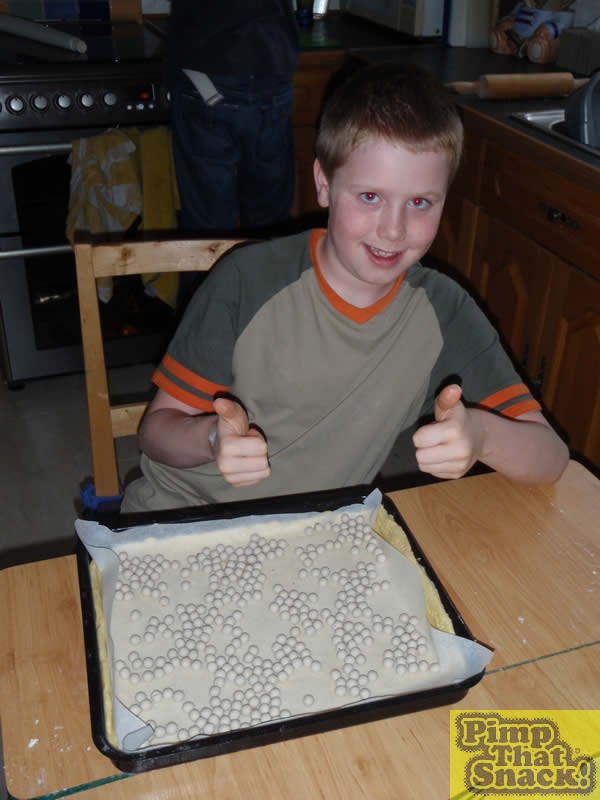 Project 2: Bricks
After a quick coffee break we used a basic sponge mixture with added ground almonds and almond essence (probably not genuine Bakewell recipe but it tasted good to us, especially as we added a little more essence each time for good measure) and mixed up 3 batches of mixture, this time using 2 'cement mixers' to contain the quantity of materials. We now had the body of our construction.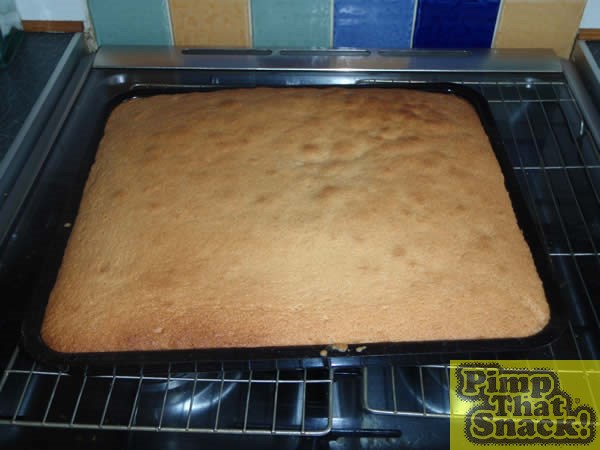 Project 3: Cement
After another coffee break we lined up the foundations, made sure they were level of course with a spirit level and emptied the contents of 3 jam jars onto them with a trowel (that ought to hold it nice and secure)!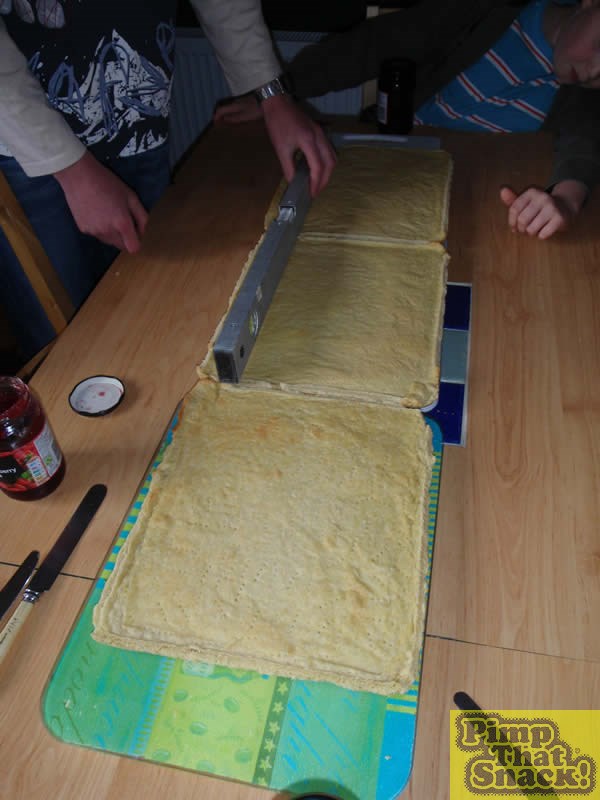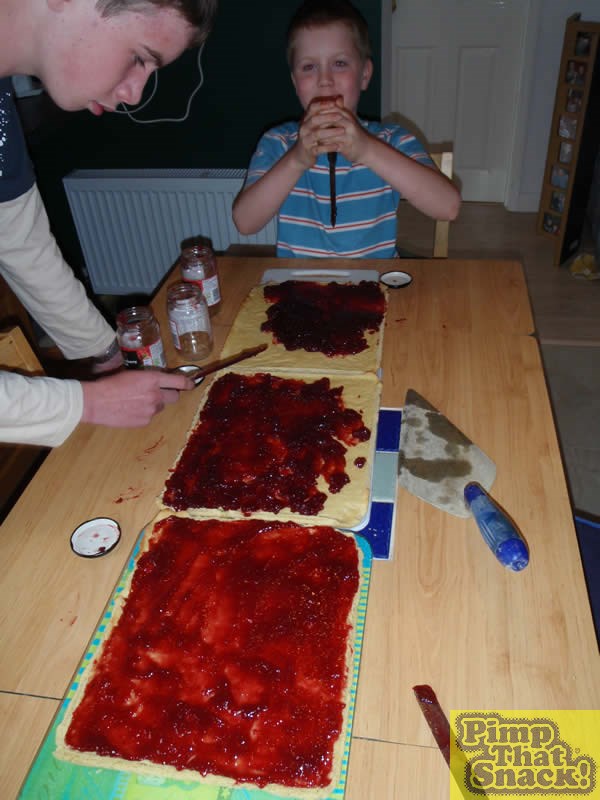 Then our chief bricklayer laid the three 'bricks' onto the jam cement. We again made sure they were level and took away any rough edges of pastry sticking out with a hammer and….palette knife.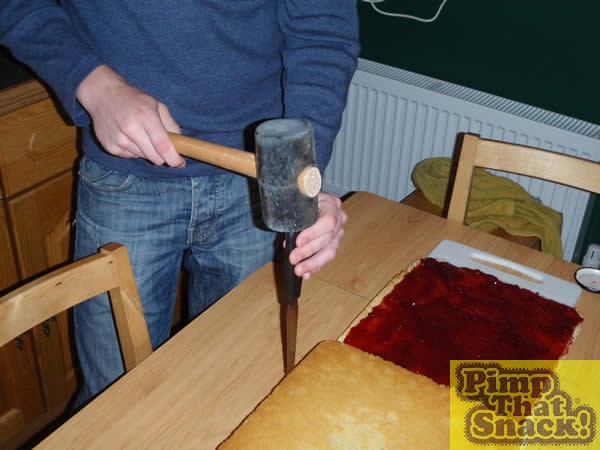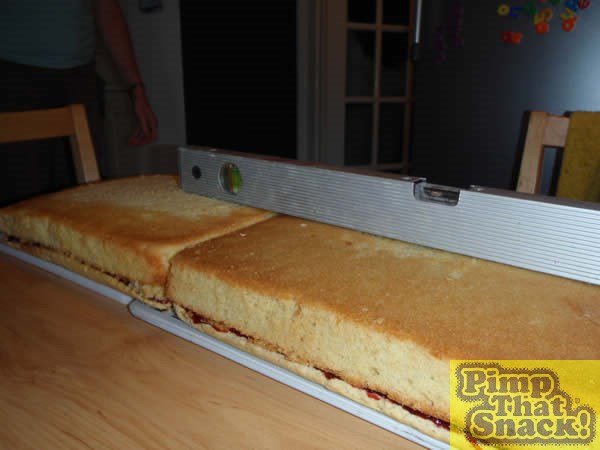 Project 4: Insulation and Grouting
After another long coffee break (pimping is hard graft you know!) we were ready to cover the slab in white insulating icing. We mixed up a batch of white glace icing, roughly 10 parts icing sugar to one part water so that it was not too runny, not too stiff. This was then loaded onto the slab of cake and smoothed out, grouting between the bricks to hide the joins.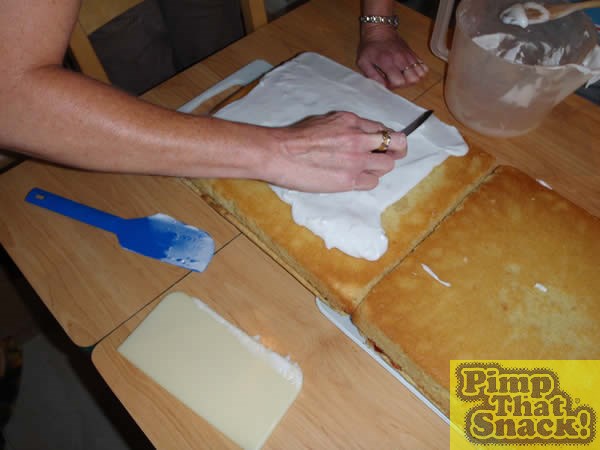 At this point our general labourer went on strike due to jammy working conditions and not being given enough bowl-licking rights!
Project 5: Sign-Off
Now it was time to call in our very expensive Architect and make him work for his cake crumbs. He was to leave his trademark signature mark on the completed slab in chocolate icing (leftover white icing with added cocoa powder). He marked out the pattern, rubbed it out and marked it again (what were we paying him for!!!) and finally was happy for the inscription to begin with the loaded piping bag. Unfortunately he didn't know how to work this complicated machinery so called for the experts.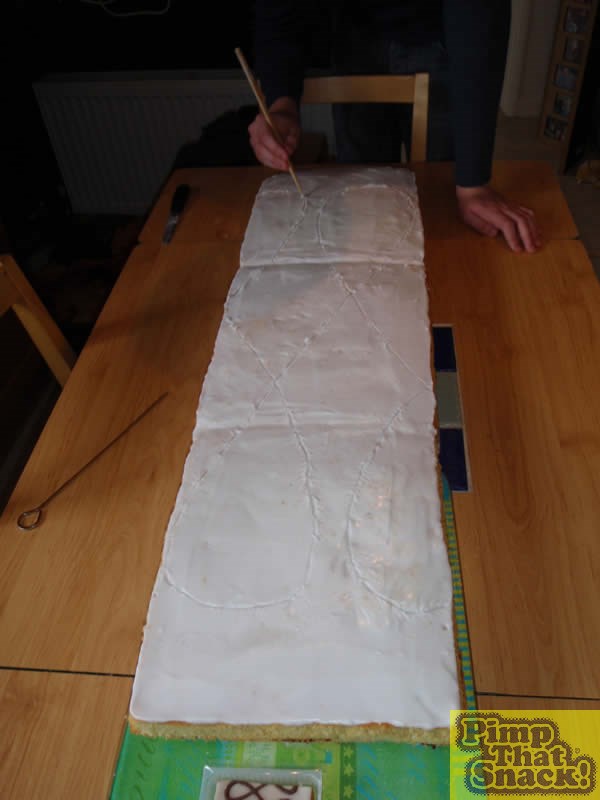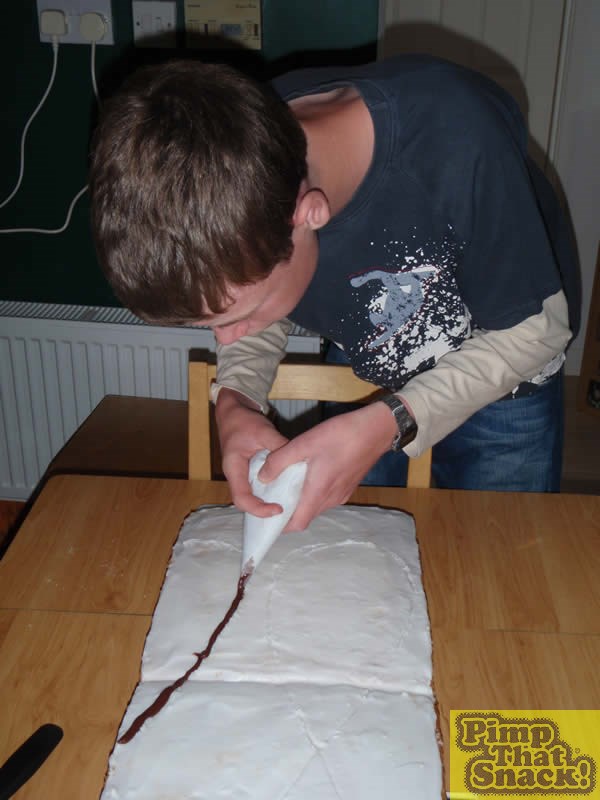 Dimensions
Our completed well-big slab measured an exceedingly enormous 1 metre by 26cm by 5cm and weighed 10.9 Kilos. Compared to the original tiny slice (7.5 x 3 x 1.5cm and weighing only 36g) this was a pimp of whopping proportions, scaling up 366x in volume and 303x in weight. It tasted good too!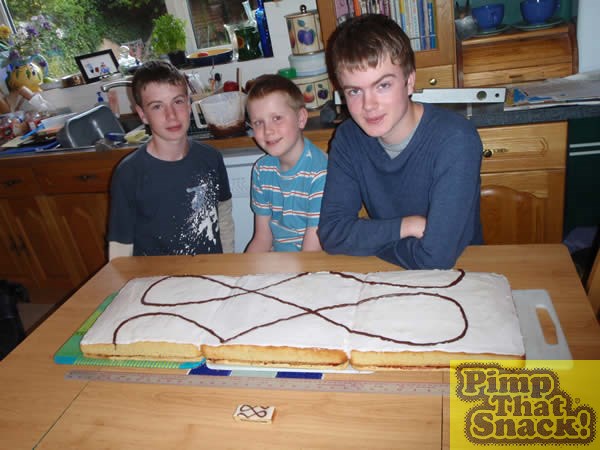 Our contract here was done!
Comments