First of all we'd like to introduce you to our ingredients and spacious pimping area. Our project, as you will already know, is the Triple decker Jafftastic Louis Vuitton Jaffa Cake™, brought to you by Asda smart price Hulme, Manchester, UK. An ambitious pimp you might think… but one we have planned to perfection.
Stage 1: spunking sponge
First things first, we crack the wine. Not that we need the creative help – we're just alcoholics. Next, we mix a basic sponge base. Come on now, we don't need to explain this to you – it's something all senior level snack pimpers should be able to do.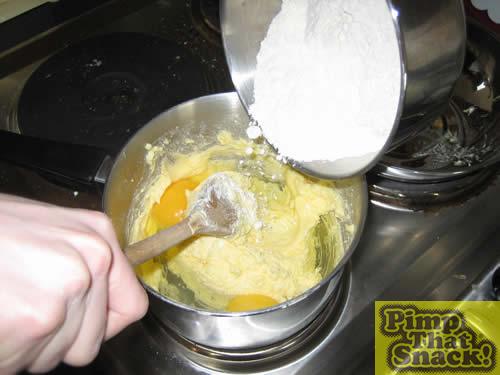 Stage 2: spreading the love.
When we have creamed the sponge mix to perfection, we spread it very carefully into the bottom of our top of the range baking trays. A meticulous operation. Into the oven quicker than you can say pass me a drink, pimp.
Stage 3: rise to fame
Out of the oven and straight into the fridge for a well-earned break. Time to chill out.
Stage 4: vino pimpo
We take the opportunity for a glass of vino – and a quick episode of 'The Office'. Pass the guitar. Genius.
Stage 5: stackin'
The sponges are cool so we get on with pimping the decks – expertly spreading each layer with Asda's finest Seville orange marmalade. Meanwhile, Snoop Dogg is pimping in the background. It's a "sign". If only he were as pimped up as this snack!
Stage 6: chavvin' the chocolate
Next for the outer layer – the Jaffa's puffa one might say. This gets quite messy at one point, but the result is nonetheless PERFECT. We think you'll agree. Unfortunately, we do make a small 'school boy' error. We put the chocolate covered giant into the fridge and on removal, we discover it's welded to the plate. After some serious chiselling, we finally free the Jaffa.
Stage 7: bling bling.
Ah, the final touches to the masterpiece. In honour of our friend Louis, we deftly decorate the Jaffa à la Vuitton. Claassic! Back into the fridge for the final 'setting stage' before the camera's out and it's paparazzi time.
Stage 8: say cheese
More wine and our work of art faces its biggest challenge yet. The photoshoot. For those who are slightly confused about the Louis Vuitton symbols suddenly turning orange – we painted them with food colouring. And there we have it – The Triple decker Jafftastic Louis Vuitton Jaffa Cake™. Enjoy.
Comments