Jelly…it's a funny thing, we all enjoyed it as children with ice cream or maybe if your parents were rich with apple pie. But after a certain age a sort of stigma surrounds anyone eating it over the age of 20. This is why I decided to make it fun again with a few simple and cheap extras. I got so carried away I made two varieties.
First: A jelly filled wine glass…with surprises.
We start with the blackcurrent flavour stiring all cubes with hot and cold water as instucted by the pack.
Next it was time to add something special to the now fully dissolved gelatin…hundreds and thousands!..or the less exciting name…sugar strands.
Now it was time to add the surprise that was to be hidden in the desert. Jaffa cakes! one for now that would sit on a layer of tinned fruit that had been sitting in my cupboard since x-mas.
Now for a healthy layer of jelly on top and another jaffa cake.
Topped with a dollop of custard to make it into a improvised triffle and left to set and voila there you have it simple and yum.
THE SECOND FEAT. Using marshmallows, tangerine flavoured jelly and hundreds and thousands (again).
First I started by putiing a nice layer of suger strands into three of the pots.
Then in all six pots I placed 39 pieces of marshmallow.
Then came the tasty looking tangerine jelly which I poured into all three servings hoping the mallow would stay in place mainly for presentation purposes, did they? look and see…:(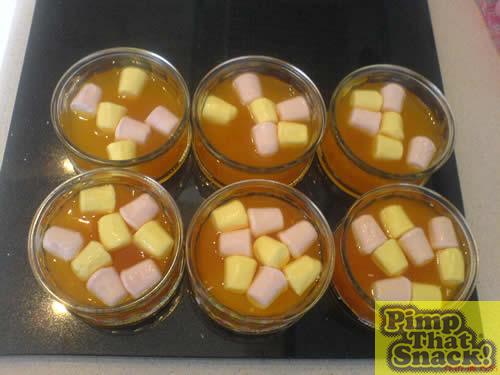 And so there we have it after four hours in the fridge they were all ready and made my family very happy 🙂
Comments