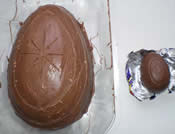 Egg-cellent Easter Pimp


by

Lizzie Jones

for

£10.00

12th April 2009
Pages: 1 2
Step 6
Once the chocolate has set – remove both halves from the fridge. Next boil the kettle and part-fill the basin in the 2nd half with hot water so that it melts the chocolate directly around it and it can be easily removed.
Step 7
Next (you guessed it!) melt some more chocolate! Fill the hole in the 2nd half making sure to spread to the edges but not to overfill. Take the first half (the one with the Crème Egg in) and 'squidge' it onto the 2nd half (what? It's a technical term!). Press down firmly but not too hard.
Step 8
Our Easter egg already had a pattern on the front which didn't earn us any authenticity points, so, we melted some more chocolate and I spread it over the pattern. Once it had set I smoothed it out with a hot knife and, copying from the 2nd Crème Egg (the first one being hard to copy as it was embedded in gallons of chocolate!), etched in the right pattern with a skewer. Leave to set again.
And voila! A pimped Easter Crème Egg was born!
P.S.
To complete the pimp I needed to wrap the egg and place back in original Crème Egg Easter egg box however I was quickly running out of time and despite attempting to speed up the process by drying the wrapper with mum's hair dryer it just wasn't going to happen! [P.S] My aim was to have the completed pimp online as part of my husband's Easter present but as the crucial stages have been completed I thought I'd post what I've got first and add a pic of the final product later.
Happy Easter Owen! And indeed to all you fellow pimpers!