Well…using an old family recipe timesed by three we created a mega bourbon!
Ingredients;
225g (9oz) Margarine
225g (9oz) Caster Sugar
1andhalf egg beaten
450g (18oz) Self-Raising Flour
6x15ml (6tbsp) Cocoa Powder
pinch of salt
granulated sugar to dust
Filling Ingredients;
3x15ml (1tbsp) cocoa powder
150g (6oz) butter
3 drops vanilla essence
300g (12oz) icing sugar
Method:
1st Get your groove on with some decent music! Then cream the margarine and caster Sugar together: you may want to get a big team together for this as it gets very tiring. Try not to think about by dancing away just make sure you don't drop any!!!
Then maybe take a break your arms will be aching! Add egg, flour, cocoa, salt (for preserving your creation) and milk togehter to make a dough. Don't be afraid to get your hands in there although make sure you don't have long nails or half the mixture may get lost!
The mixture will probably be very sticky so add some more flour whilst neading! Then roll out on to a tray in two halves – one for the bottom and one for the top! If you don't have a rolling pin, fear not! Use a bottle of wine or can of baked beans like we did. Not alcoholics – we promise.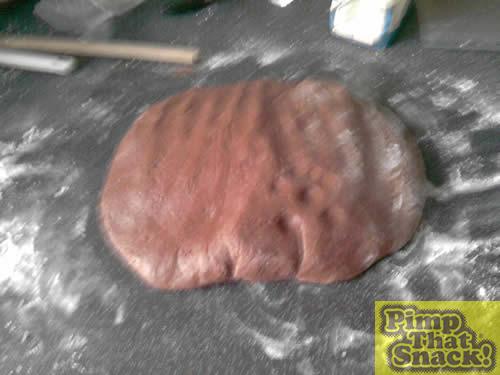 Bake for 25 minutes in a pre-heated oven at 160degrees c (Gas Mark 4) but if this isn't enough leave in for longer. When cooked the biscuit should be slightly soft but will harden up once cooled. Be very careful when getting the biscuit out of the mold you don't want it break!
Then leave to cool and ditch the washing up – let your mum do it. We suggest teddy bear roles on the trampoline for a while to burn off the calories you are about to eat!!
When cooled – after about 30mins-1hour cream the icing ingredients together and using a warmed knife spread evenly in the biscuit to sandwhich them together. Leave to set for about 15 minutes and voila you have a giant bourbon – minus the scrawl of course – if you are artistic you could attempt this before placing it in the oven.
This is easy because there's no wrapper to create either – definately one for the less creative of you all!
Good Luck everyone and Bon Appetite!!
Total Cost – Under £5
Total Weight (before cooking) – 1KG
Total Weight (After cooking and creaming) – 1.2KG
Calories – LOTS!!
Comments