It all started with my reputation for making cakes at work and a need to
raise money for charity. Someone suggested I Pimp a Snack. After a quick wip
round £23 was gathered for ingredients and suggestions for the Pimp were
made. I decided to Pimp a Caramel Rice Crispie Square on a giant scale. I
was lucky that I had a friend I could borrow an A1 catering roasting tin,
stove and two giant pans. We cut up the Caramel Rice Crispie Square into
well over 100 big pieces and raised £127 for Tickled Pink.
Ingredients:
10 Bags of Toffees @ 49p = £4.90
10 Bags Marshmallows @ 68p = £6.80
5 500g Tubs of Marg @ 47p = £2.37
6 600g Rice Snaps @ £1.28 = £6.40
4 150g Blocks Chocolate @ 64p = £2.56
Total £23.03
You will also need:
A1 size catering roasting tin lined with greaseproof paper
2 big catering pans
Wooden spoon.
Here's how to do it – it takes about an hour.
Unwrap all the toffees and put 5 bags in each pan along with 5 bags of
marshmallows in each pan. Add half the marg to each pan.
Melt down the ingredients until they are liquid – this takes abit of time
and be careful not to burn it to the side of the pans.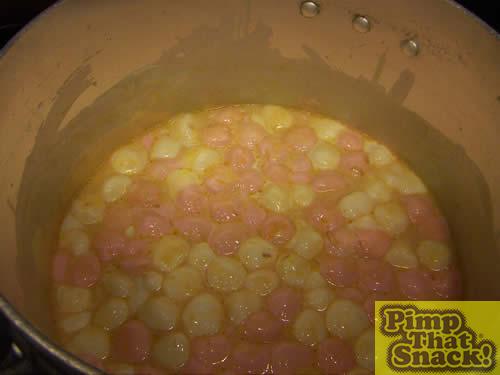 Once the ingredients are in liquid form tip 3 packs of rice snaps into each
pan. This where you realise you need big pans as they will now be full! Stir
in the crispies until all the ingredients have combined. This takes abit of
time and your arms start to ache !
Tip the mixture into the lined tin. Now comes the tricky part unless you
have a friend to hold the pan whilst you scrape out all the mixture as the
pans are quite heavy now.
.
Once you've got your mound of mixture into the tin press it all down until
flat.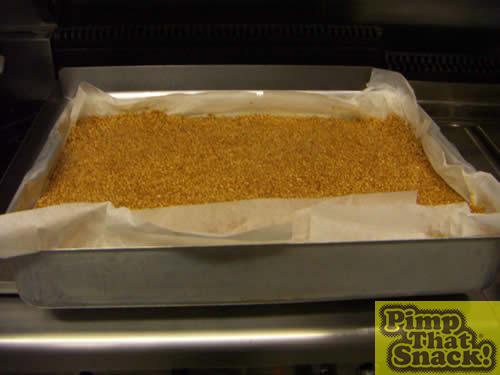 Melt down the chocolate in a bowl over a pan of hot water. Once melted
drizzle all over the top of the crispie.
You now need to let the crispie cool and chocolate set – I had the use of a
walk in fridge but if you don't then leave the tray in a cool place for a
few hours.
The tray is quite heavy by now so you may need a friend to help move it to
the desired destination.
This is great if you need to feed a lot of people like I did!
Comments