Why do we cut pizzas and cakes up into pieces? Why should burgers be any different?
How about making a big burger, an Uber-Burger, cutting it into pieces and sharing with your friends?
A snack for 3-6 people. Mmm. Approximate cost: £5.
Pre-heat the oven to 200 degrees C and mix the following ingredients in a bowl:
* 500 grammes (1 pound) lean beef mince
* 1 small onion (or a small piece of a large onion) chopped, finely
* 1 egg
* 1 piece of Alan's rustic bread (M&S farmhouse soft oat-meal), hand crumbled
* pinches of salt and pepper
* squirt of ketchup
Using a cake tin and two pieces of grease-proof paper, make into a round burger – line the tin with a circular piece and press down. Fry the burger for one minute on each side to seal.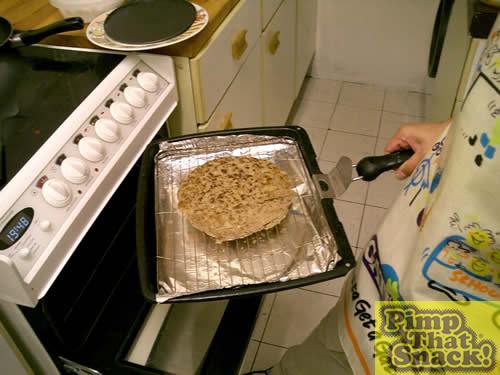 To construct the burger you will need:
* 1 'pain de campaigne' traditional french white bread 400 grammes (Sainsbury's)
* 4 slices of a large onion, fried
* 1 large beef tomato sliced, raw or fried
* 1 slice of iceberg lettuce
* ketchup and salad cream
Put the sealed burger on a grill pan in the oven for 15 minutes, turning after 10 minutes. While the burger is cooking you can fry the onions and tomatoes, if required.
Cut the bread in half.
Put some sauce and iceberg lettuce, follower by the burger, then add the onion, tomato and more sauce; varying sections of the U-burger as desired.
Take a sharp knife.
Working from the middle of the U-burger, cut, slowly, towards the edge.
Divide the U-burger into slices.
Here, we've done three pieces, but from experience, this will feed four, five or even six!
Serve, with chips and salad.
Sit on the sofa for twenty minutes feeling slightly unwell.
Comments