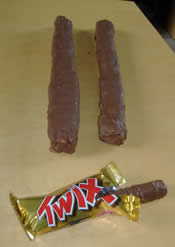 Twix of Terror


by

Daddy Cool Smitz

for

£5.00

14th June 2006
Pages: 1 2
You gotta roll with the punches so I had another raid of the larder and found a bag of caramels.
I melted them in a pyrex bowl chocolate style and hey presto- perfect twix filling!
Next up was the chocolate covering. This was the simple bit, just melt and pour/ paint on. Put a wee design on the top and voila- The Terrifically Tremendous Twix of Terror was born.