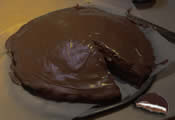 SHWING Mint Slice


by

Lehmo, Crawfy, and Jamie

for

£14.00

7th February 2009
Pages: 1 2
Melt rest of chocolate and pour over top. Make sure poured chocolate is cooled down first though or butter will melt which you dont want.
Place in freezer for magic to happen. Lol, we took out top shelf to make room and forgot to put it all back in at end, they all defrosted! Anyway, try not to be tempted to place fingers on semi hard chocolate and be patient. In the meantime, you might want to start washing cause theres a heck of a lot of dishes and flour everywhere!
Take out and test. In our rush to leave, we were heading to marion to catch a movie, it wasnt fully hard on top. It actually wasnt too bad, it tasted exactly like the real thing, until we felt sick from all that sugar and butter!
Stats:
Weight: 3.2 Kg
Measured 24" across
2000 cals a bite, not really cause you would die
Pimps : Crawfy, Woody and Lehmo (Alex, Jamie and Ryan otherwise)
Eaters at school : Mrs James, Gus, Ant, Ben, Guy, Sam, all of whom went home sick...