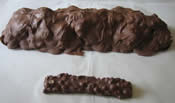 Pimpnic 2


by

Corinna and Paul

for

£5.41

24th August 2006
Pages: 1 2
We have pimped a Picnic...because 'Pimpnic' was not true to the original cadbury picnic which has...contrary to popular belief, NO wafers!!!
So, we have recreated the picnic true to its original form...with just rice crispies, peanuts, raisins, and lots of chewy caramel and chocolate...
Ingredients:
1 box of rice pops
2 bags of dairy toffee
1 bag chocolate covered peanuts (we didn't want salty ones - this was the only alternative!) 1 bag of raisins
650g of chocolate
Here it is... Pimpnic...but better!!
1. Line a baking tray with greaseproof paper and draw on the back of it the size that you want the picnic to be....(big!!) this way, you have a template and the bar of pimped up picnic will be straight and well formed!
2. Melt chocolate in Bain-marie and pour chocolate onto the template....you have to have a base for the chocolate bar, and it couldn't have been made in a mould because the top has to be knobbly like a real picnic...so here is the chocolate base. We refrigerated it before adding to it...
3. To make the picnic extra chewy and yummy, we added a layer of toffee to the chocolate base and put it back in the fridge while we made the middle bit.