We decided to pimp a KitKat Chunky, although there are 2 others already, we thought we could do better in honour of this fabulous snack! We wanted to go BIG.
Ingredients.
30 x Saisbury's Luxury Belgian Milk Chocolate
3 x ScotBlok Chocolate Flavour Cake Covering
6 x Loacker Quadratini chocolate wafers
1 x Wallpaper dipping trough
1 x Sticky backed vinyl floor tile
Vital statistics
Size L 59cm x W 17cm x H12cm
45,888 Calories
1860g saturated fat
1120 Weight Watchers points ( this equates to 3 months worth of a daily allowance for a woman)
Cost £36.42
Day 1.
We cut out the KitKat logo from the floor tile and stuck it to the bottom of the trough ( in reverse ). Melted about 1 third of the chocolate and poured it into the mould.
The kids have never seen so much melted chocolate before!
Day 2
The chocolate set over night. Next stage was to arrange the wafers in five layers along the chocolate.
Then melted the rest of the chocolate and poured it carefully around the wafers, then over the top.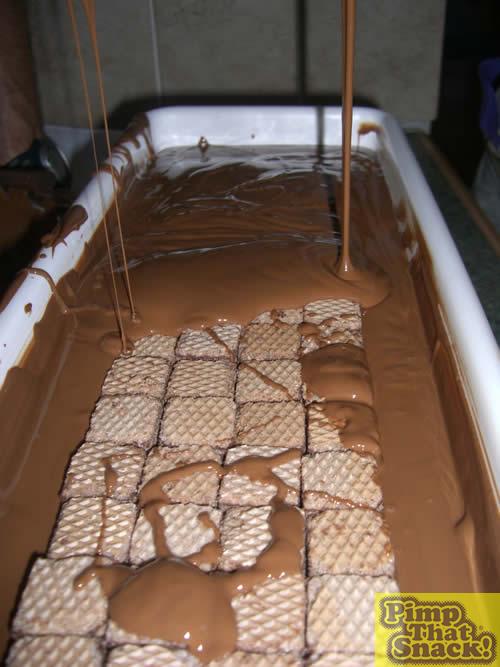 The house was starting to smell like Cadbury World. MMMMMMMMM! Could not fit it in fridge flat, cos it was far too big.
Day 3
Woke up early to check the BigKat. Still not Hard enough!
Had to put it in fridge, but on a slant. Finally at around 6pm our creation was hard enough to be born!
It turned out surprisingly easy.
ANYONE FOR A SLICE OF BIGKAT.
HAVE A BREAK, HAVE A (SLICE OF) BIGKAT.
A video of the final pimp is available on the next page >>>>>

Here is a lovely video panning round the final model. Excellent!
See and comment on the original video on YouTube:
Comments