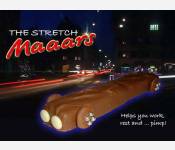 Maaars Bar


by

Soop Dogg

for

£0.80

16th April 2006
Pages: 1 2
Step Four: Minor disaster here… a part of the join fractures under the stress of polishing, but with a cool head and a hot welding tool, a piece of bodywork from one of the off-cut sections is placed over
the gap and welded securely into place. Another session of more delicate polishing ensures a seam-free fix.
Step Five: Wheels in motion. Hand crafted sweet-based mag wheels are skilfully manufactured using Cadbury Buttons and silver confectionary balls for hub caps with a high chrome finish. The hub caps are then
mounted individually onto other buttons to complete the wheels.
Step Six: The wheels are fixed onto the chassis with skill level rarely seen outside of a Ferrari pit team. White chocolate 'halogen' headlamps are then added to complete the project.
Petro-choco-heads rejoice, this is high octane chocolate pimpery in motion. Let the cruisin' begin…