As long time admirers of Pimp that Snack we decided as a team to all Pimp a snack and have a Pimp bake off!  I decided to go with giant Cream tea Scone!  It was with Chantilly Cream and Raspberry jam.  I decided to follow my tried and tested Mary Berry recipe for the Scone, however was going to need to PIMP it up.  I took the standard recipe for 20 scones and thought times it by 6 so compiled the ingredients!
Heres the total ingredient list –
For Scone –
2.7KG (6lb) of Self raising flour
12 rounded tsp Baking Powder
225G Butter
300g of Caster Sugar
12 Eggs
About 2 pints of milk
Filling
Full Jar of Jam
2 Pints of whipping cream
4 dessert spoons of icing sugar
Natural Vanilla extract 
When opened first pack of flour realised was going to have to make this in two batches a Top and Bottom to the scone!  So halved all ingredients and put dry ingredients in largest Tupperware I had and then added butter and made into breadcrumb consistency.  Then needed to add liquid, 6 eggs whisked and make up to 900ml with milk.  Pour into dry ingredients gently and slowly, whilst mixing together. 
Save some of the liquid back to glaze the scone.  Upon Mixing I realised my initial idea of using a 9inch tray was way under estimated!  A little resourcefulness meant I quickly got screwdriver out and removed handle from a 14 inch frying pan. 
Ideal size!  Lightly greased it and put in the mixture!  Used remaining eggy lmik wash to glaze over the top. Placed in oven at 220c for 20-25 mins normal scone time!  It rose but when I skewered it still not cooked in side! So then transferred to 130c oven for additional 20 mins or so to cook it through!  Great all I had to do now was repeat the process!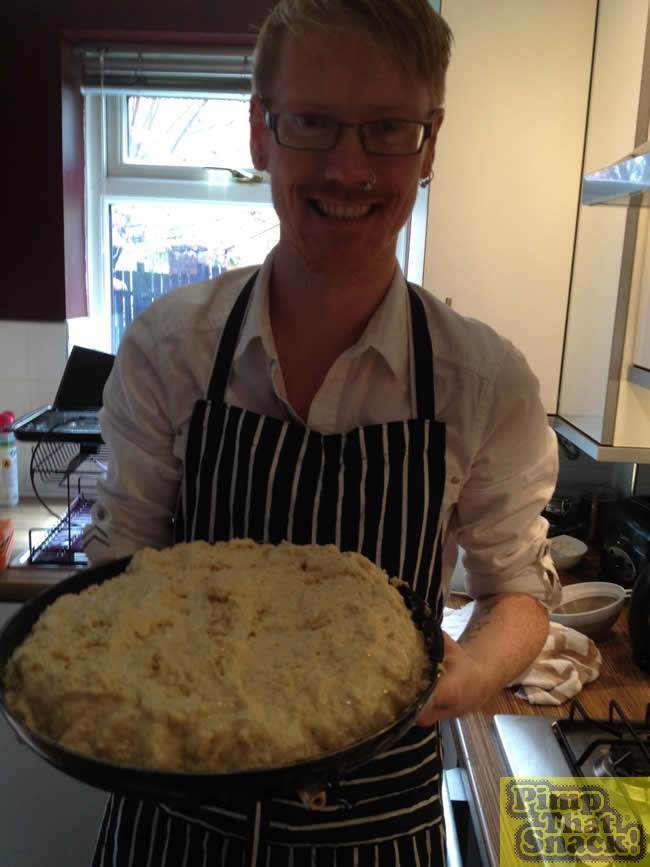 Once out and cooled. I had to make it resemble a SCONE!  I sliced off the top of the 'bottom' scone, buttered in and used a whole jar of Jam! 
I then whipped up 2 pints of cream with Icing sugar (for added strength and stability) and couple of tsp of extract.  Voila Chantilly cream!  Smeared in.  Moment of truth was putting on the substantial 'top'!  Went on a dream!  Massive scone done!  One scone from a mixture which was enough for 120! 
Based on average size and calories of a scone and cream it came in at a massive! 13lb in weight and 32000 calories!  Actually tasted really nice and am very proud of it!
Comments