What better way to spend the time for revising a German exam than creating a giant German-style snack? With sauerkraut and schnitzel being given the thumbs down, it had to be an über chocolate pretzel.
After finding a suitable recipe, a quick raid of the cupboards and the local Budgens provided all the ingredients necessary:
For the pretzel:
250g Margarine
100g Caster sugar
2 large eggs
1 tsp of vanilla extract
120ml of milk
120g Cocoa powder
500g Flour
For the chocolate frosting:
4 tablespoons of Cocoa powder
120g icing sugar
4 tablespoons of melted margarine
½ teaspoon vanilla extract
Estimated cost: £3.00
Method
Whack the margarine and sugar into a large bowl and cream with an electric whisk until creamy!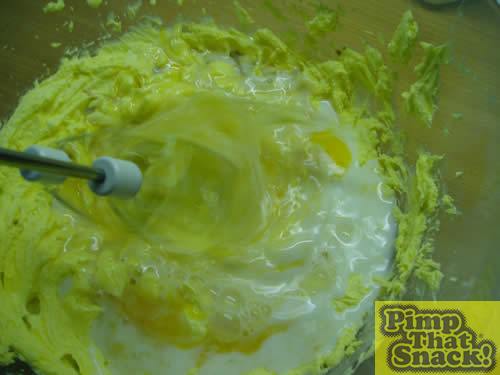 Mix in the egg, vanilla and milk, whilst trying to get action shot of mixing. Continue whisking until it looks like horrible scrambled egg gone wrong.
Sift in cocoa and flour, whilst taking another action shot!
Mix with whisk until the dough gets stuck to the whisks. Erm…
Scrape off dough and tip it out of bowl onto a sheet of foil (trying hard not to think what it looks like). Then put it in fridge 30 minutes and put feet up whilst learning about biotechnology and how to make soy sauce.
Take dough out of fridge. It should be a little firmer, but it still looks a bit wrong…Using some extra flour, roll dough out on work surface into 2 long sausage(?) shapes of equal lengths.
Place on 2 greased baking trays into curved shapes, trying not to let the dough break.
Cook in preheated oven at 180 degrees C for about 15 minutes. When done, take out, and cool on tray on a wire rack.
Make chocolate frosting by mixing all ingredients together in a stainless steel bowl (it must be stainless steel, or it will stick everywhere).
Assemble pretzel on a tray, making sure it doesn't break (although the frosting does make a good pretzel cement). Coat in sticky chocolate frosting, and leave overnight to allow the frosting to harden.
Marvel at the überness of the pretzel. Then present it to a hungry German class where it will be devoured in less than ten minutes.
Comments