600g Box of Liquorice Allsorts: £2.50
Breathing life into the living embodiment of sweet-toothed-cheekiness: priceless
Opa!! This is me, chef, next to a box of treats that imprisons everybody's old favourite, just waiting to get out.
All we need is a little chef magic, and a bit of imagination. I just wave my conveniently positioned arm like so, and it beginsÂ…
WaitÂ…I'm not doing this nowÂ…they're moving of their own accord! They're taking a kind of humanoid shape before my eyesÂ…
I should have known, our character now coming to life is not based on accurately sized and scaled pieces like in his picture at all!…I shall have to add to the magical mix a little bit of wizardry with a novelty oversized knife – whilst still waving my arm of course – very important that…
It's coming together, I can't believe it, surely this freak of nature cannot truly live, never mind stand. Hmmm, maybe the hat's the keyÂ…
IT'S ALIVE! The lord of liquorice – the all-seeing allsort himself! I tell you what he's a lot shorter in real life.
How about a photo for the viewers? I'll just sit next to you, and wave my arm..like..so..
Hold onÂ…where's that noise coming from? Whatever it is it soundsÂ….hugeÂ…I've never heard anything like itÂ…like an enraged elephant falling off a precipice or somethingÂ…omigosh it's coming right for usÂ…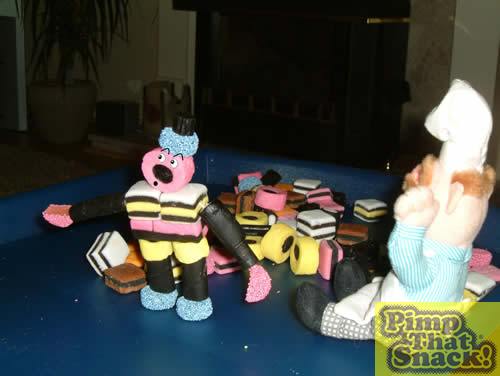 I can't believe it..it was him, but just soÂ…Bertie, Bertie? Can you hear me? Speak to me?
Oh well, waste not want notÂ…..mmmm!
THE END?
Coming soonÂ…Â…What frightened Baby Bertie so much?
Comments