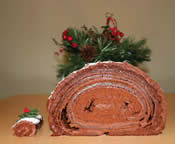 XXXL Yule Log


by

Andy Taplin, Barnaby Firth, Helen Waring, Laura Boyes, Nicola Adams and Simon Robinson

for

£40.38

18th December 2006
Pages: 1 2
Ingredients
80 eggs
2,240g golden caster sugar
800g self-raising flour
800g plain flour
32 tbsp cocoa powder
16 tsp vanilla extract
1,760g butter
2,400g dark chocolate
4,800g icing sugar
2 litres milk
4 jars apricot jam
What better way to round off another busy year, than getting into the Christmas spirit, having a glass or two of mulled wine and pimping the mother of all Mini Yule Logs. And solve the annual what-do-we-stick-on-our Christmas card dilemma.
1. First stop Tesco. Probably best not worrying about chicken welfare with egg prices like that.
2. Whisk the eggs and sugar for 10 minutes. To our surprise the girls had the best wrist action. Mix in the flour, cocoa, butter and vanilla, pour in the tin and bake for 15 minutes.
3. First batch fresh out of the oven. Looks like somebody's pimping a bourbon biscuit.
4. 16 sponges later and it's assembly time. Precision cutting and molten apricot jam should be enough.
5. Cover the sponge with a liberal coating of chocolate fudge icing. With a few tips from the professionals.
6. The moment we've all been dreading. Time to bring in the big-guns and some A1 tracing paper.