So, how to start but with some classic gaffer tape and a couple of good old cereal boxes. We fashioned a cone shape and after discovering that lining it with cling film was way to difficult we decided on tin foil instead.
We then melted lots and lots of chocolate and some sexy sugar to make crazy caramel.
With the chocolate now melted we lined our cone mould with chocolate, constantly turning it and then letting it sit briefly in the freezer before doing it all over again until we had about 6 layers. It all became very boring at that point.
And with our crazy caramel we stuck loads of walnuts together to make one GIANT walnut baby!
When the chocolate was all hard we ripped off the mould which was very satisfying and made the mind numbingly boring task of building up the layers previously completely worth it!
For the soft filling we whipped up four egg whites and added loads of icing sugar until it was all nice and fluffy. Then we filled up our big chocolate cone with the sticky white goodness. hehe.
We still needed a base for our walnut whip so we covered a plate with cling film, melted some more chocolaty chocolate and poured it onto the plate to let it set.
And after sticking the base and the walnut onto the main body of our creation by melting the chocolate a little it was complete!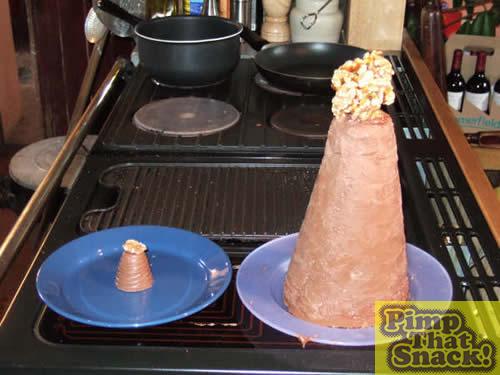 And here it is after those pesky kids got started on it! it was blooming delicious by the way, the texture of the chocolate was so good! the layers made it all the more YUMMY!
Comments