Snack Pimping! A shadowy flight into the dangerous world of snack that does not exist. Adam and Frances – 2 young(ish) loners on a crusade to champion the cause of the hungry, the starving, the snackers, to create a snack that is above the law.
Right first things first, whack the motor in super pursuit mode and get down to your nearest supermarket to purchase the components. Don't forget to engage the passive laser restraint system before you start the car (safety first!) and make sure you engage the emergency braking system in plenty of time before you get there. Be safe kids. You will need:
2 Big bars of Cadbury's Dairy Milk (It is a Cadbury's Boost after all. However, to save cost you could go for value milk chocolate *cough* cheap skates *cough*)
1 Tub of Whipping cream
Some shortbread (We bought a cake type dealy thing and 2 packs of biscuits and did not even finish the 1st pack of biscuits)
2 bags of soft/chewy toffees.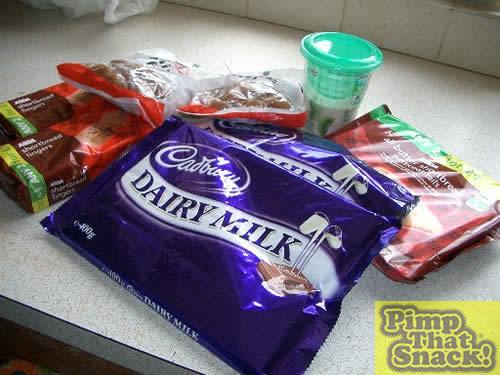 Heat the whipping cream in a saucepan, stirring constantly so to not let it boil or create a film on the surface. Break a bar and a half of the chocolate into chunks and throw in another saucepan. Pour the cream over the chocolate so that it melts and then stir continuously to prevent from sticking to the pan. If there's two of you then while you are stirring the other one can be breaking up the shortbread into chunks about the size of a sugar cube. If you are attempting this alone then you might wanna do this 1st.
Add the shortbread to the mix and carry on stirring till it's the shortbread has been fully covered and accepted into the community. Once it is ready you are going to want to mould it into a long tube. To do this, we cut a bottle in half vertically, poured the mix onto some cling film and rolled it up and placed in the bottle to be put in the fridge/freezer to set.
To pass the time engage in a race to unwrap all the toffees. Oh, yes, Not only are you getting snack pimping but a fun activity for all the family. Warning – Don't play against women who love their sweets. They have devised an unbelievably quick way of unwrapping them. If you have no other choice then standing in front of the bowl so they cannot put their toffees in is NOT cheating. Once they are unwrapped nuke the little blighters just short of radioactiveness.
Once the mixture has hardened up (not rock solid but kind of play-doh consistency) then remove it from the bottle and mould it into shape. Pour the nuked toffee over this mix covering it. Place it in the fridge again.
Lastly for the molecular bonded shell. Melt the rest of the chocolate (You might wanna have some spare. We had a bag of buttons which we used some of but when we were done there was some chocolate left over) and then pour it over. Whack this in the fridge to harden. At this interval you could take the opportunity to watch Wrestlemania 22 on DVD cos whatcha gonna do while it is setting and pimpmania has run wild on you!! Ahem.
Once it is hardened then take it out the fridge and cover the bottom in toffee and chocolate. For accuracy, as any good pimp should have, use a fork and create the zig zag pattern on the bottom and then it's back in the fridge to harden up. Leave it overnight and take yourselves out for a nice Thai meal to congratulate yourself on a job well done. The next day, throw a BBQ and invite some of your closest snacking friends to enjoy your creation.
Then reveal the Turbo Boost in all it's glory with suitable props for sizing comparison, slice (photo) and enjoy. Remember, one man can make a difference. (Ok, one man and his girlfriend. It just doesn't have the same ring to it) This was brought to you by Adam and Frances – lone crusaders in a dangerous world. The world of the Snack Pimpers.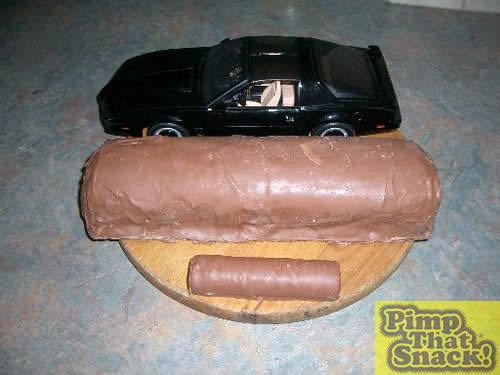 Comments