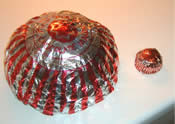 Ten Tonneocks Teacake


by

Michelle Kershaw and Nick Dodds

for

£4.50

10th November 2006
Pages: 1 2
One cold and lonely Sunday, we decided to Pimp a snack……. But what, we asked ourselves? In search of an answer, off we trot to the land of Morrisons, aisle 16 : BISCUITS. After finding the prospect of all the biscuits quite frankly unchallenging, we stumbled across the one and only Tunnocks Teacake, and vowed to create something bigger, better, more life threatening in terms of hyperglycaemia… The "Ten Tonneocks Teacake"!!!
Having no idea whatsoever of how to make marshmallow, and only a rudimentary knowledge of how to make biscuit, we called in the cavalry (our mums). Pretty soon, we had scribbled all the necessary ingredients onto the back of our excitedly sweaty hands, and filled a shopping basket with more fat and calories than even Atkins would have allowed.
Here's what we bought:
The recipe for marshmallow called for Corn Syrup, seemingly an American phenomenon, and since we couldn't find any we bought glucose syrup instead and crossed our fingers.
To begin with, we blew up a balloon, stood it in a pint pot, and covered it in cling film to act as a mould for our chocolate dome. Then given our amazing scientific knowledge, we put this in the fridge without the chocolate to allow the warm air in the balloon to condense and thus avoid cracking the dome at a later stage. Aren't we clever!?
As the balloon cooled, we made a start on our biscuit base. Let's take a look:
After the kneading and rolling was completed, we found a suitably sized flan dish, cut the dough to size…
… and then popped it into the oven, at gas mark 5, until golden brown and satisfactorily crunchy. Poking at it every two minutes with a knife to see how it's going isn't essential, but we did it anyway!!
While the biscuit baked, we set about melting our chocolate. We had 800g in total, but thought that layering it over the balloon in stages would produce the best results. So we started with three bars, equalling 300g. We melted the chocolate by placing it in a glass bowl over a pan of boiling water, stirring it with a wooden spoon.
Then, spatulas in hand, we spread the beautiful molten chocolate over our mould, giggling like maniacs as our baby actually began to take shape.