Pimp That Snack has fabulous, tasty, yummy snacks mostly surrounded by chocolately goodness. May I introduce the Super Scone. The premise is to make one mega monster of a scone. For this pimp adventure, we needed:
Ingredients
Lots of sultanas
Loads of self-raising flour
Caster sugar
Butter – but I don't like, so used Sainsbury's Olive Spread – very yummy!
Pinch of salt
Milk
Jar of Strawberry jam
Elmlea Whipping Cream
For added bling – Designer icing and decorations
Total cost approx £5.53
Step One
Grab your bag of flour and empty it into your mixing bowl, along with the salt and rub in the butter. Next to stir in is the heart and soul of a scone … the sultanas! Splosh they go, along with the caster sugar and milk. My aim was for a nice sticky dough at this point but it wasn't to be … luckily for me, I could call upon an expert in all things that are pimp …. the PimpDaddy himself ? Yaaaay, the Pimpdaddy helped by adding in more flour (although at this point, we only had plain flour so I was concerned it wouldn't rise!). He worked his muscles on the sheer mass of ingredients and received a reward of a nice cuppa.
Step Two
Thanks to PimpDaddy we now have decent dough to roll out as wide as our largest baking tray would allow!
Step three
The baking tray was greased and ready to receive the delight of doughness. A splash of milk on top to finish off and into the oven for 25 minutes whilst we have a brew.
Step four
A nice aroma of yummy doughness engulfs us as we open the oven to receive the new arrival. Hmmmmm. Okay, so the milk ran a little (I need a milk brush please!) but otherwise, looking okay and we leave it to cool off for a while. Came back a while later and ouchy, perhaps needs some more time to cool down.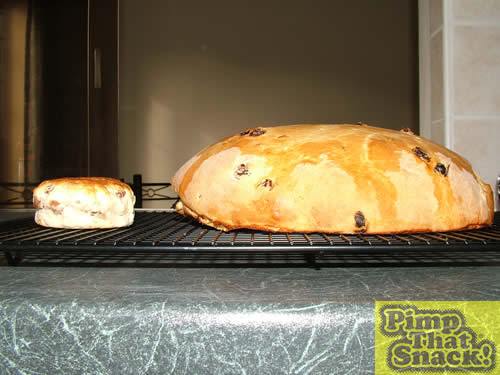 Step five
Next step is to slice the beast in half and add the yummy extras. Spoonful after spoonful of Strawberry Jam is piled onto the bottom half. Whipping up the Elmlea cream it seems very runny and I've made a mistake … should have gone for the squirty cream – more fun, tastes yummy and way easier! Despite this, the pimping must go on ….. Awww just look at the cute baby scone….certainly feeling intimidated now by the giant beside him.
Step six
The sheer size of the Super Scone makes it look bare and I feel it needs a finishing touch. Using tweezers, shiny bling balls and a lot of patience combined with the icing … here is the final dressed Super Scone. All we need now is a supersized bucket of tea!
Mmmmm it tastes pretty yummy although I'm not sure if we can polish it off!
Edit: We finished it off within 3 days. 🙂
Comments