Ingredients
We chose a recipe to make 20 scones and then multiplied it by 8.
The forthcoming scone was set to contain
2 Bags of flour plus a bit.
1 bag of sugar or there abouts.
Just under 1 pot of Utterly Butterly.
4 pints of milk (we were only prepared for 2 pints)
1 pot of double cream.
3 pots of cheap jam.
A couple of eggs.
All for a very reasonable £6.95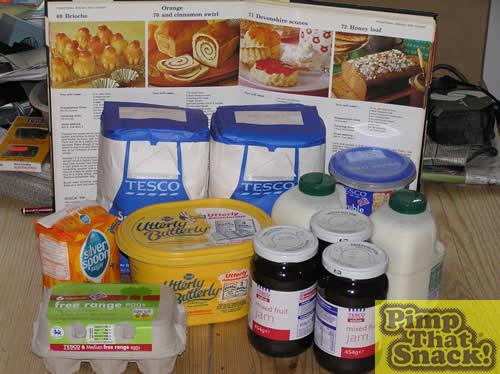 We hired some really massive people to mix our really massive scone mix.
They struggled with the consistency and joked about it.
After shaping and putting in a tin, it was off to the oven…
We decided that the scone wasn't big enough and so made another one. They simply would not cool down and so we got electric about it.
Pushing the cream through Robs head and then pouring it into our chosen vessel from a height…
On goes the jam and the cream….
An assembled mega-scone. On the left is a normal scone, multiply that by 160 and it would look similar to our nobbly confectionary sandwhich that took an afternoon to make.
Richard can't believe it. He maintains that expression to this day.
We all got stuck in, cups of tea all round. It tasted mighty fine although as they say, 'If you make a scone that is 160 times as big as a normal scone and try and eat it you will feel really sick and wont get very far'
A job well done none the less.
So to summarise-
The scone weighed just under 8 kilos.
That is about 1.2 stone.
That is the same as my dog.
No one will ever make a bigger scone.
Comments