As we are all aware the 'party rings' constitute as one of you 'five a day' so in an attempt to reduce the amount of time taken in buying 5 different fruits/veg/party rings we have created the time saving item of the century the PIMPED party ring. Over many arguments involving tea, hobnobs and bloody noses and an intense study of the party ring me and my fellow chefs came up with the following recipe.
100g Butter
200g Flour
1 Large Egg
100g Caster Sugar
Pinch of salt
100g Icing Sugar
Yellow food colouring
Pink food colouring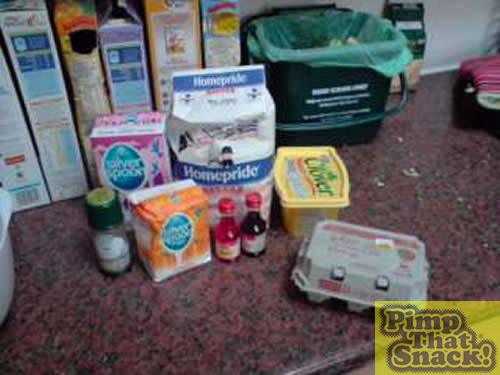 1. Mix the butter and caster sugar together until you have a mouse like substance. Hit any approaching housemates' hands with a hot iron.
2. Beat in the egg. Have a competition with remaining eggs to see who will be the first to drop theirs.
3. Clean floor
4. Mix in flour till you have dough; if the mixture is still sticky add more flour.
5. Wrap the dough in tin foil and place in the fridge.
6. Keep one eye on the fridge at all times. I didn't do this the first time and so some passing gypsies came in and ate all the mixture.
7. Preheat the oven to 180 degrees or gas mark 4.
8. Roll out you mixture into a circular shape. We didn't have a rolling pin so we just used a bottle of wine.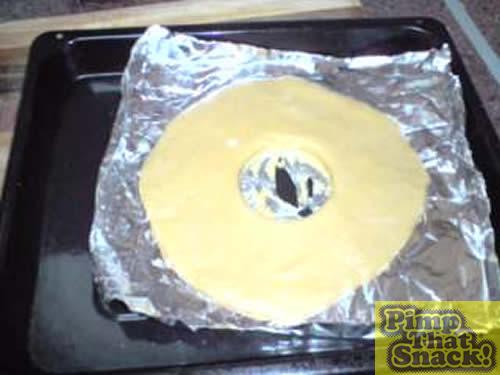 9. Using a glass cut a hole in the centre of your disk. Use any remaining dough to throw at the gypsies that stole your earlier mixture.
10. Put in oven on baking tray, we didn't have a baking tray so we used baking paper.
11. Remove after approximately 20 minutes.
12. Mix the icing sugar with a 2 tablespoons of hot water. Separate into batches of about 90% and 10%.
13. To the larger batch add a few drops of pink food dye. And yellow to the smaller batch.
14. Apply the pink batch liberally to the top of your ring (lol).
15. Streak five lines of the yellow batch across the ring and then feather with a knife. If you haven't given up and eaten it all by this point you have the 'will power' of a quitting heroin addict.
And there you have it. A time saving way to get your five a day! Approx cost £4.78
P.S. For all you other students out there party rings also cure Chlamydia, so make sure you get pimping.
Comments