What do you need?
2 giggly females
400g plain flour
100g caster sugar
180g margarine
2 egg yolks
lots of Icing sugar
Food colouring x 2
Mix the sugar and margarine until your arm aches (not long for inexperienced cooks!!). Then fold in the flour (technical term for mixing) and the egg yolks.
Turn out on a flour suface (very sticky, feels like play dough) and kneed (technical term for mixing on a flat surface).
Roll out carefully (use your hands and guestimate a rough circle), then cheat and use a round object (or chocolate tin lid, which needed to be eaten first!!!) to make sure it is correct.
Carefully mark out the underside (bottom) of the party ring, measuring exactly the gap between each line (.23 mm)!!! We used a knife handle, but you could also drag your finger across to make these lines, suggest you wash your hands first! Oh yes, then cook for 35 mins at gas mark 4.
Mix the icing, 2 colours needed, taste many times to check the texture.
Wow, the underside (bottom) looks great, Delia mark 2 and 3, here we come.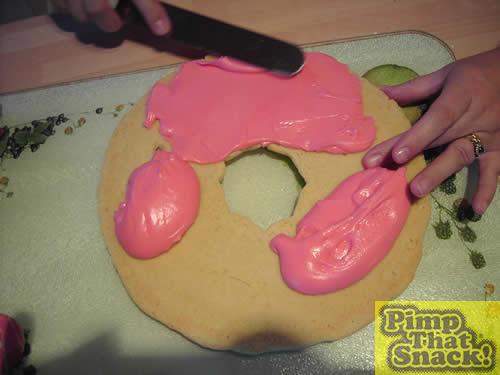 Smear lots of icing on the top and smooth with a wet hot palate knife, (or tongue if no knife near, unless of course you have already been sick from eating too much icing),
The best yet, or so we think, it tastes great, looks stunning, orders taken!
Comments