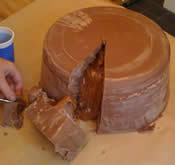 God of the Rolos


by

Andrew Parker

for

£59.09

4th August 2011
Pages: 1 2
Next job was to melt the Werthers - this took forever and was hard work on the arms - fortunately i'd picked up a vital tip from my fellow pimpers - that of adding water to the mixture! This not only helped the melting process but also kept the toffees liquid. Once liquid i then poured the melted toffees into the chocolate well and left to set slightly.
Once slightly set more chocolate was melted and poured over the toffee to form the base of the Rolo. By this time i had managed to locate and empty chest freezer which was used to set the Rolo firmly - just in time for the party!
After much hacking and cutting at the laundry basket (by now in a multitude of pieces) the rolo was turned out in all it's glory - fortunately a small boy was on hand for scale! The God of Rolos was chopped up and enjoyed by all - especially by the small children who were by the end of the party bouncing of the walls with sugar over load! Long live God of the Rolos!