After discovering the Pimp That Snack Website, we couldn't resist having a bake off at work where we all made a pimped version of our favourite snacks.
I choose to make a 'Giant French Fancy' it cost in total £15.20.
Original List of Ingredients
4 x Asda Smart Price Sponge Mix = 22p each [too lazy to make my own!]
1 x Asda Smart Price White Piping Icing = £1
Ready to Roll White Icing 1.5kg = £3.92
Box of Icing Sugar = £1.08
6 Medium Eggs = £1.48
Pink Food Colouring = £0.84
Raspberry Jam = £1
Butter = £1
Vanilla Essence – Store Cupboard
I quickly realised after mixing the first sponge mix that I should have bought 8 packets for the amount of sponge required for the pimp. Therefore I needed to make an additional amount of sponge mixture, I have estimated £3 for the additional ingredients.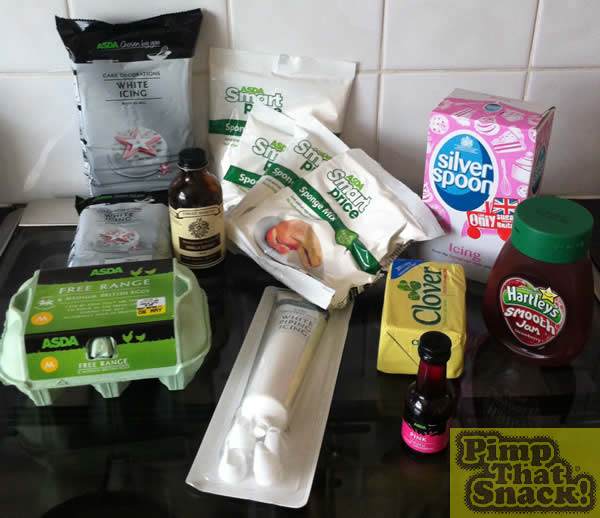 Mix the sponge mixtures using an electric whisk to ensure light and fluffy sponges, I made 4 sponges in a silicone square 10″ cake bakewear. Whilst these are cooking it gives you time to mix the pink food colouring in with the white ready to roll icing, this is hard work and requires lots of elbow grease!
Also allows time to make the butter cream, lots of butter, icing sugar and vanilla essence, then mix very carefully with an electric whisk. I ended up with an icing sugar poof of smoke around my kitchen!
I placed the buttercream into the appropriately sized bowl (lined with cling film) and popped it in the freezer to make it easier for applying the icing over the top.
Once the 4 sponges had cooled down I built the sponge tower. Placed the butter cream on top, and painted extra buttercream around the sponges to smooth the ridges before applying the icing.
Measure the sponge, and roll icing to fit. Apply icing, then draw the white lines to the top of the cake.
Then stand back and enjoy the master piece!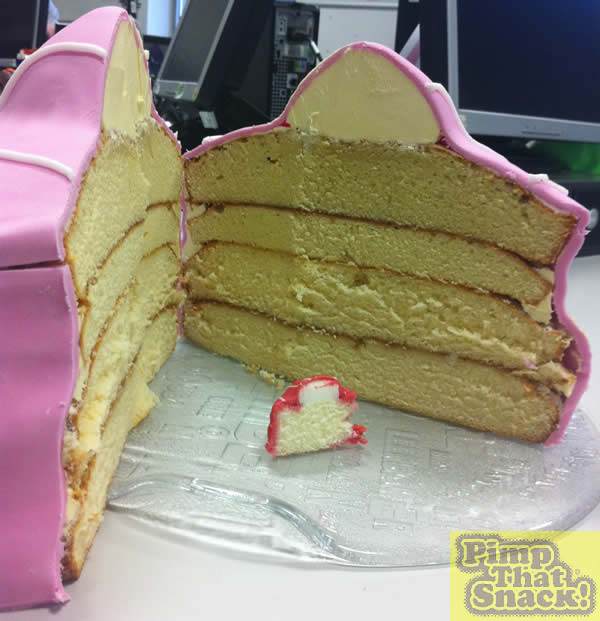 Comments