Ingredients:
2 x pastry cases
Jar of sainsbury's el cheapo jam
Large box of icing sugar
Ingredients for Almond sponge (eggs, flour, butter, sugar, crushed almonds)
Glace cherries
3 students with dissertations to write
After weighing up the pros and cons of snacks possibly worthy of pimping it emerged that a firm favourite was the Cherry Bakewell…
1. Pastry cases were crushed till they could take no more and butter was melted until..it was melted…
2. Crushed pastry and butter were united to co-exist as one forever more
3. Pastry and butter combo was inhabited in what was to be it's home for the next 2 hours.. a big bowl which happened to be the right shape (which we had lined with cling film)..which was placed in the freezer
4. Icing sugar and water were whipped up into a frenzy
5. hmmmm almond sponge…
6. ta-da! (Cherrys are divided and conqered while we wait for sponge to cool)
7.El-Cheapo jam meets now hard as a bad boy growing up on the streets pastry case
8. the sponge is delicately shaped using the ancient technique of 'cuttingroundaplate'
9.All available tools are employed to place sponge into it's pastry bed
10. sponge, jam and pastry are gently smothered in icing
11. cherries unite.
12. How good are we? Baby Bakewell meets the Big Mutha Bakewell..it was all going sooo well until…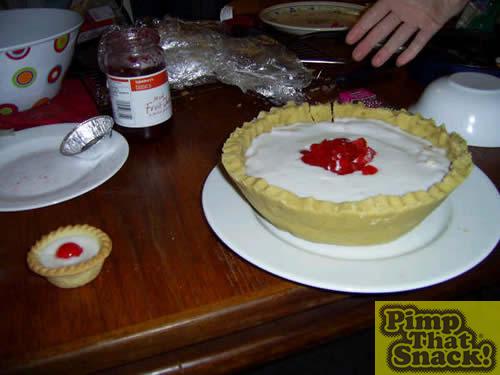 11a…it all went wrong.. unfortunately being the impatient little pimpers that we are we just couldn't wait for it all to set.. 'Cut it open' 'Lets taste it' the crowds cried so we gave in…unfortunately so did the bakewell.. still it tasted GOOD…and these pimpers had enough sugar to last them fo' eva, fo' eva eva…
Comments