1, This is a chomp, no matter where we looked we couldn't seem to find one and they are amazing. Milk chocolate with chewy caramel. What could be better….nothing, exacly!
2, This is our ingredients, we bought 15 bars or chocolate (but only used 13) and 4 bags or caramel toffee sweets. Cheap ones of course, we're not made of money!
3, We folded some tin foil for our melted down chocolate to make the base.
4, Opening sweets. We had to do it fast as we kept eating some!
5, Melting down chocolate
6, Making the chocolate base.
7, Making the chocolate base thicker. You can never have too much!
8, This is the size we need our caramel base to be. Thought it would be a good idea to have a guide.
9, Melting the caramels sweets too ages so we used our microwave to speed it along.
10, Fun bit, stretching out the caramel.
11, The finished caramel base. Looking good up to now!
12, The is the caramel base on the chocolate base. It smelt so good!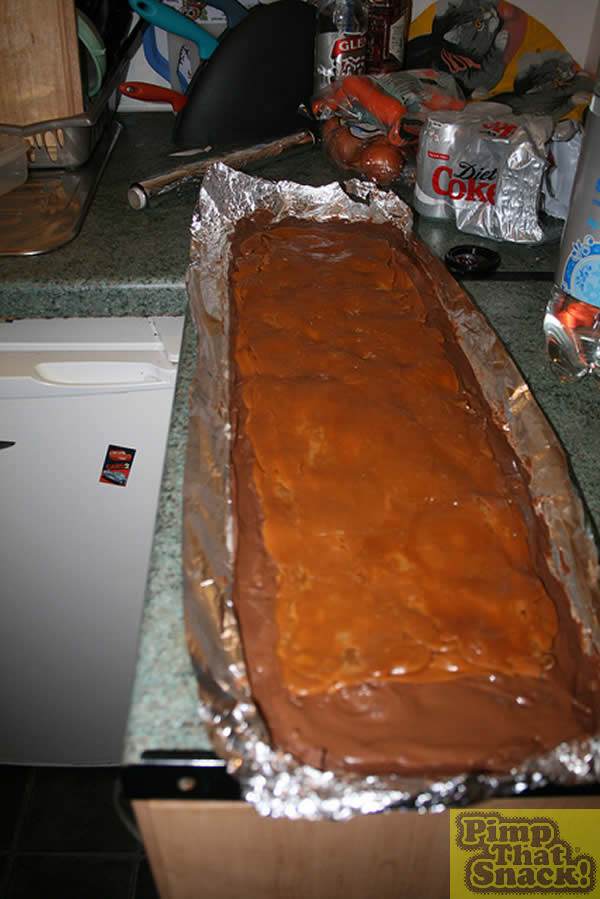 13. Adding the top layer of chocolate. We used a paint brush (clean of course) to try and get the ripple bumpy affect.
14. After about an hour and 2 cup of teas later, the mega super chomp was dry and ready to be cut. Looking good!!!!
15, Us holding our giant chomp. Showing it off!!
Tastes amazing, just like a chomp. We'll be making more of these!!!
Size,
27" by 8"
Calories
Each sweet had 34 calories and there were 100. So, 3400 calories.
Each chocolate bar was 504 calories. So, 6552 for 13 bars.
So the champion chomp is a massive 9952 calories!!
Cost,
Chocolate bars – 35p each, 13 x .35p = £5.25
Sweets – 29p each, 4 x .29p = £1.16
Foil 59p
Overall £7
Comments