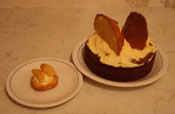 Big'n'scary Fairy Cake


by

CyberFlotsam

for

£2.30

13th May 2006
Pages: 1 2
Once everything was mixed together, it was ready to go into a baking tin. Note the greaseproof paper and butter-substitute used to grease the inside of the tin. Your pimping experience - like any experience in life - should not be spoiled by lack of adequate lubrication.
The oven was preheated to 160C, so once the mixture was put into the baking tin, the tin could be popped straight in to bake.
Baking took about an hour, which was more than enough time to make some butter cream icing. After a spell in the oven, the cake was ready to be decapitated.
The top was duly sliced off the cake, and cut in half to form the wings. A more-than-generous dollop of butter cream was spread on the top, and the wings fixed in place.