3D Gingerbread Church with Blinged-Up Windows
Ingredients: 6oz butter
6oz light muscovado (brown) sugar
2 eggs
1lb plain flour
2 tbsp baking powder
2 tbsp mixed spice
2 tbsp ground ginger
1 bag coloured boiled sweets
Method:
Step1: Get yourself to the local sainsbury's or other leading supermarkets and purchase the necessary items.
Step 2: Don your protective clothing, we recommend aprons (preferably polka dot) as these are both efficient and stylish
Step 3: Take your butter and mix it with the sugar until fluffy. Beat the eggs before gradually adding to the mix.
Step 4: Sieve the baking powder, flour, spice and ginger into the mix.
Step 5: Use hands to mix and knead into a ball of play-dough like consistency. Wrap in cling-film and refridgerate…
Step: 6 … 30mins later… on counter use rolling pin to roll dough into thinnish sheet (around 0.5cm).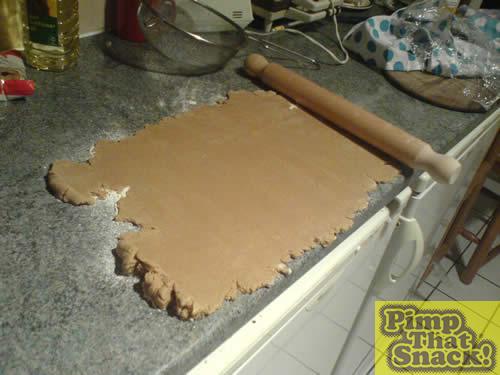 Step 7: Using carefully drawn out templates, cut out 4 walls and 2 roof tiles.
Step 8: From walls cut out window or door shapes.
Step 9: Place in pre-heated oven at 180oC for 15-20mins (or when golden brown)
Step 10: Meanwhile sort boiled sweets into colours, and smash into tiny tiny pieces. We find wrapping in a teatowel and pounding onto desktop most effective. This does cause permanent and irreparable damage to the teatowel.
Step 11: Remove gingerbread from the oven and fill gaps with boiled sweets to create your desired pattern.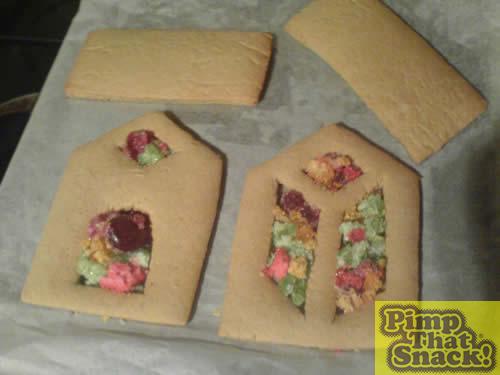 Step 12: Replace into oven at same temperature for a further 5-10mins (or until sweets fully melted)
Step 13: Remove from oven and leave to cool
Step 14: When cool assemble church, we used melted chocolate, however once assembled if left out of fridge for any length of time demolition will occur.
By the way, if there's any dough left over, use to make priest and choirboy (nudge nudge wink wink) or further stained glass biscuits. Enjoy!
Comments