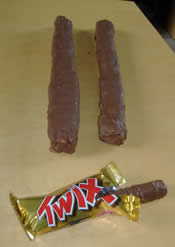 Twix of Terror


by

Daddy Cool Smitz

for

£5.00

14th June 2006
Pages: 1 2
Ingredients:
Milk
Condensed Milk
Caster Sugar
Butter
Plain Flour
Baking Powder
Chocolate
(Bag of caramels when home made stuff doesn't work)
Price –FREE (if you raid your friend's larder)
£5 otherwise
The morning after a marathon poker and beer session is probably not the best time to consider your first pimp. Never the less, hungover and with a chocolate craving, the Terrifically Tremendous Twix of Terror was born.
The ingredients were stolen from a friends larder. (Yes- LARDER- it was a farm). In an ambitious attempt at glory I decided everything except the chocolate would be made my hand.
First thing to make was the biscuit base. Flour, butter, sugar and messy hands squishing them all together created a massive dough ball that was strangely appealing to touch.
These were cut into pimped out twixy fingers and baked in the AGA. (It was a farm remember!) .
Next thing to hand make was the caramel. Unfortunately my lack of preparation began to show here as I didn't have a recipe for caramel. So on the side of the condensed milk was a recipe for banoffee pie. I thought, what the hey- surely its similar so made banoffee pie without the bananas or the pie. The mixture didn't turn the lovely golden colour I was expecting, but I lathered it on one of the fingers anyway. Note the attractive caramel moulds hand engineered in tinfoil! Apparently I cooked the caramel for too long and it turned into tablet! (tasty- but no twix!)