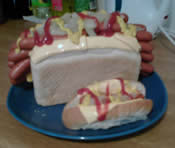 Super Weiner


by

Richard and Emily Gottfried

for

£3.71

7th May 2006
Pages: 1 2
Calories: 3,185 (Approx)
Weight: 1Kg
Ingredients:
32 Hot Dog Sausages
1 Hot Dog Roll
1 Loaf of Bread (Un-sliced)
10 Cheese Slices/Singles
French's Mustard
Tomato Ketchup
1 Onion
1-Tablespoon Sugar
1-Tablespoon Butter
Cutlery and Utensils:
1 Large Saucepan
1 Small Saucepan
A Large Knife
1 Hot Dog Picker-upper Tong
Can Opener
A Tablespoon
A Plate
Method:
First of all I'd like to say how much I like Hot Dogs, in fact I love them, I love them so much I decided to create this pimped dish – the 'Super Wiener'!
So once you have bought the ingredients (available from all good shops in your area) and gathered the necessary cutlery and utensils you can set about building the ultimate hot dog: 'Super Wiener'.
Firstly open the cans of hot dog sausages, try to avoid reading the meat content on the tins as this can often be quite alarming, once over this hurdle place the 32 sausages in a large saucepan along with the 'free' brine that is included in the tin, you may like to remove some of this to quicken the cooking time.
Next, take your large knife and cut a wedge shape from the loaf of bread that will become the Hot Dog 'Bun' (remember to keep the excess bread to eat later), then place a tablespoon of butter and a tablespoon of sugar into a small pan and heat. Peel and slice the onion and place into the small pan and leave to brown, stirring occasionally.