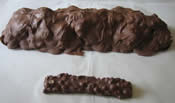 Pimpnic 2


by

Corinna and Paul

for

£5.41

24th August 2006
Pages: 1 2
4. We then took a big bowl and added lots of rice crispies, raisins, peanuts and melted toffee, and a big splosh of melted chocolate for good measure, keep Mr Cadbury happy! Mix, mix mix be careful not to squish the crispies!!
5. Mould this mixture onto the refrigerated base, leaving a little room around the edges so that the chocolate topping can seal. We then refrigerated the picnic again so that when it came to covering it with hot melted chocolate, it wouldn't melt and collapse everywhere....
6. Melt some more chocolate (if you haven't already) and then pour it over the picnic, it can be a bit messy true to the style of a natural picnic but not too much...its always good to be neat!
We even had enough mixture and melted chocolate left to make a few mini picnic fairy cakes...they are chewy and delicious if you don't fancy chopping off a big slice of the big picnic!
The cost of this pimp was £5.41, and we still had LOADS of raisins, toffees, and rice crispies left!