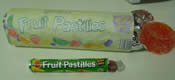 Giant Fruit Pastille


by

Leo Plant

for

£6.00

5th June 2008
Pages: 1 2
5. Assemble you pastilles onto tin foil and wrap it so that you are left with (what you'd expect) a load of giant fruit pastilles wrapped in tin foil.
6. Wrap your label (which hopefully will have been finished by now, although if not you can always resort to poking your simple friend with a vast array of objects, ranging from the pogo stick to the traditional barge pole) around the tin foil sausage, and marvel at the ginourmous package that you have (Cue amusing crotch shots).
7. This is the stage in the proceedings when you have your pimped snack and have to take your comparative photo to show just how big your pastilles are compared to the regular sized packets. For this we recommend buying two packs of Fruit Pastilles as the inevitable consequence of buying one packet is that you eat one before the pimping is complete, and then have to go to the shops to buy another pack for the photo.
8. Now its time to open up your Pimped pack of Fruit Pastilles and enjoy the sugary goodness that you've made.
This feature is courtesy of Leo and Ali enterprises