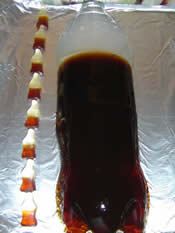 Colossus Cola Bottle


by

Tim, Liz, Mark and Anya

for

£4.74

5th May 2006
Pages: 1 2
Let the cola jelly set in fridge for an hour or so – sit back, relax and just enough time to type up the event of the year.
Once set repeat with lemonade, 350ml to one sachet vege gel and repeat process, pouring lemonade mixture into mould on top of cola (once cooled).
Leave to set over night in the fridge
Next morning the person with the smallest hangover again wields the Stanley knife and carefully cuts the bottle mould in half (dodgy flowery tray not essential) but keep the bottle mould held together and run a sharp knife in between the two halfs to split the jelly.
Gently lay one half on some tin foil
Et voila the Colossus Cola Bottle is born