Ingredients
225g of butter – £1.30
120g each of brown and caster sugars – £5
2 eggs – 60p
350g of plain flour – 75p
1 teaspoon each of vanilla essence, salt and bicarbonate of soda – not much
Lots of chocolate things – £2
£9.65
Every person who was a child in the late '90s will agree that BN biscuits are the best type of biscuit ever created in the history of biscuits. This is a fact. (For anyone who doesn't know, a BN biscuit is like two square biscuits sandwiching together chocolate or strawberry filling. They also have faces! They stopped being sold in England in the early 2000s – some sort of government plot or something – but are still available in France, which is very inconvenient for us Brits.) So, today, we endeavoured to recreate this most majestic and glorious of snack biscuit. We decided that we couldn't just make a batch of BN biscuits. We had to go bigger…but how does one go about recreating such a fine specimen of biscuit on a larger scale?
Firstly, we drew a very elaborate and realistic sketch to work from. Luckily, we are former art students (by this, we mean that we spent three years doing GCSE art), so we are very good at life-like technical drawing.
After assembling all of the necessary ingredients, we set about creaming the butter and sugars together, before adding the eggs and dry ingredients – a fundamental step in the creation of any good biscuit.
We did this all by hand…luckily we are great sportsmen as well as artists and chefs (and mathematicians – see our pricing of ingredients. Inspired.).
Next, our artistic sides came to the fore again as the time had come to shape the dough into a vague BN biscuit shape. So we split the mix in half and set to work. "It looks like a bum!" said Olivia.
Unfortunately, we forgot that biscuits tend to spread out once into the oven, therefore essentially wasting ten minutes. But we took a photo anyway.
While the two halves of the biscuit were in the oven, we made the chocolate icing filling. This was comprised of any chocolatey things we could find in the kitchen…hot chocolate powder, chocolate chips; tiny hot chocolate powder chocolate chips…no actual bars of chocolate, though. We also added water, butter and icing sugar so that we actually made icing instead of just melted chocolatey mess. That would have been foolish!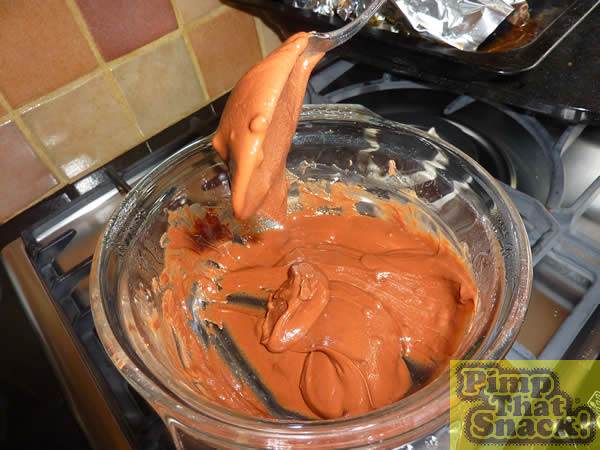 We took lots of photos of this step, because we liked it. The biscuits took a long time in the oven (twice baked because they were PROPER BISCUITS), so the supply of chocolate icing started to dwindle. Luckily, we still had lots of chocolatey bits, so we just made some more.
The biscuits were really taking a long time…so we took a trampoline break (but first we had to clean it – potentially the most fun chore ever).
After a long break, we were back – and the biscuits were ready to be cut! There were lots of tasty edges that we…disposed of. We began to cover the bottom biscuits with the chocolate icing, but we soon realised that we had misjudged the amount that we would need to fill the biscuits. Or maybe we just ate too much of it. Either way, we had to quickly mix up another small batch of icing.
The finished product – Olivia kindly offered to be photographed as a head-size comparison as we had no real BN biscuit to hand for scale…logical.
The next step was the best…because we got to eat it.
Comments