Every Easter my boyfriend asks me for a Yorkie egg, and every year without fail, I manage to forget to buy him one. So, this year, after seeing the pictures of the Giant Creme egg, I thought, "Why not make a giant Yorkie bar?" Why not indeed.
I took some tips from other giant Yorkie makers and headed into town to equip myself with the tools I needed. I bought:
13 bars of Tesco value chocolate (30p each)
4 bottles of poster paint (97p each)
a pack of plastic food containers from the pound shop (actually cost £1.50)
paintbrushes (99p)
large roll of catering foil (£2.00)
gold vanilla scented edible shimmer spray (£3.99)
At home, after building the base from an old cereal box and the catering foil, I melted the first batch of chocolate. And very quickly realised that I didn't have anywhere near enough chocolate. Another emergency trip to Tesco, 25 more bars later (and some funny looks from the girl on the checkout) and I was back melting the chocolate.
I'd realised from the other Yorkie attempts that none of them had a wrapper. This, I decided, was the way to make mine stand out from the crowd. Unfortunately, I'd managed to forget to buy red paint – for that all important IT'S NOT FOR GIRLS sign – but thankfully, before I was reduced to using nail varnish, I found some red fabric paint. Note: don't use fabric paint on tin foil. It's still not dry two days later..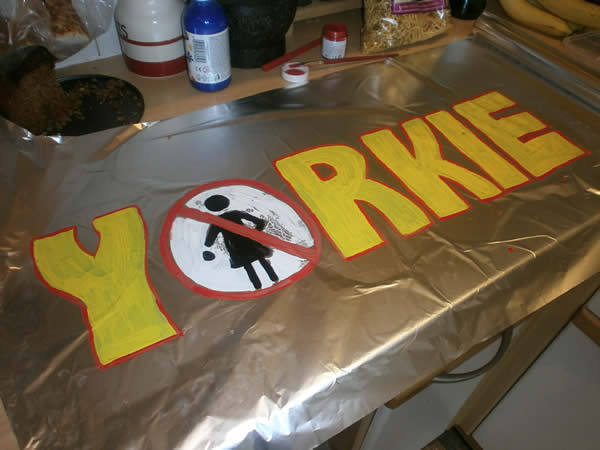 Really, the Yorkie was pretty easy to make. Just very, very time-consuming. Once the chocolate was melted and the moulds were filled, all that was left to do was wait for it all to set. I painted the wrapper, danced around my kitchen a bit shaking with mirth and glee, made a stencil for the top of the bars, and waited for it to set. This only took a mere two hours…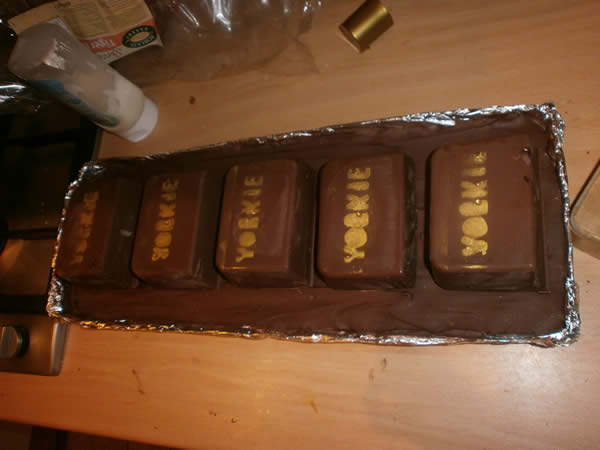 Once the Yorkie parts were set, it was time to assemble it. I'd saved one bar to melt down (what else?) for glue and it seems to have worked pretty well. The blocks are all but impossible to pull off the top! A spraying of gold vanilla scented edible shimmer spray (yes, really) later and the Bigger Than York-ie was complete.
Total price: £23.46
Total time: 7 hours
Total calories: 18870
Comments